Shadowstorm
Dark Starship for the Dark Lord
Before he became Darth Vader, Anakyn shar Atrados was Crown Prince of the ancient Star Empire of Atlantis. A Jedi Knight and a pilot of great renown, Prince Anakyn was commonly known by the nickname given him by the other pilots of the Atlantean Imperial Space Force: Skywalker. At the controls of his Dorat-class attack craft, Sunstorm, Skywalker was one of the greatest defenders of Atlantis during its devastating final war with the Santovasku Empire.
When he fell to the Dark Side and transferred his allegiance to the Santovasku side of the conflict, Darth Vader kept the gunship, renaming it Shadowstorm to suit his altered tastes. With the Sith Lord at its helm, the ship's gray outline became as infamous among Atlantean pilots as its gleaming white earlier self had been famed.
When Lord Vader's student and Emperor Quevas XIII Santova's daughter, Kahm, rebelled against her father and ignited the conflict that would destroy Santovasku, Vader decided it was time to retire from public life. He fitted Shadowstorm for a long downtime and placed the ship in sealed storage in a bunker beneath Quevas XIII's palace, then placed himself in hibernation nearby and waited. When he was awakened by Acting Federation President Palpatine in 2412, he found the gunboat waiting for him, its systems ready for activation despite its millennia of silent vigil.
Shadowstorm is not an overwhelmingly speedy vessel, especially in hyperspace; it is too large and cumbersome to hold its own against modern starfighters, which have become smaller and nimbler in the Third Epoch. Still, it serves Lord Vader well as a comfortable and yet powerful personal transport, with living quarters for three or passenger space for up to six in a pinch. An equipment bay built into the forward fuselage, accessible from outside the ship, contains a wide variety of field equipment, including portable shelters, a range of weaponry, and Lord Vader's personal ground transportation, a high-performance Atlantean speeder bike.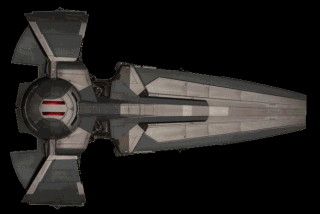 Shadowstorm from above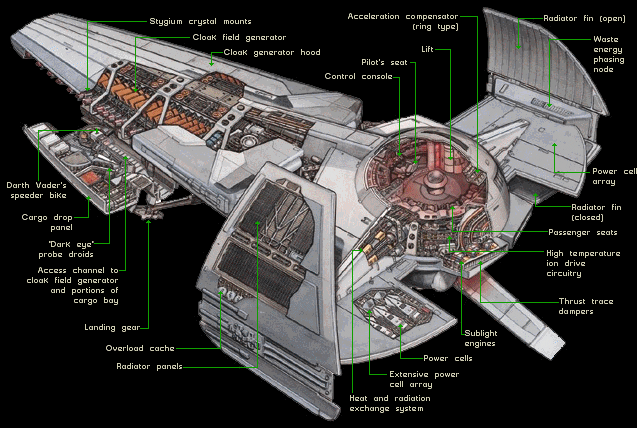 Cross-section of Shadowstorm (lower deck living quarters not shown)
(Images from the Star Wars Episode I: The Phantom Menace: Behind the Magic CD-ROM set and adjusted slightly by John Trussell)

NAME/MODEL#: Dorat-class patrol/attack craft
DESIGNER/MANUFACTURER: Atlantean Driveworks
COMBAT DESIGNATION: Gunboat
CREW: 1
PASSENGER CAPACITY: Up to 6
CARGO CAPACITY: 1 mt
POWER SYSTEM: ADX-229 power converter and ionization reactor
PROPULSION SYSTEM: High-temperature X-C 2 ion drive array (rated at 900 KTU)
SPEED RATING: 90 MGLT
FLIGHT CONTROL SYSTEM: ADC-292 flight avionics package
MANEUVERABILITY RATING: 60 DPF
NAVIGATION: ADQ-992 crystal-element navicomputer
FTL: AD SSDS 11-A motivator drive unit (hyperdrive)
HYPERDRIVE RATING: 1.25
WEAPONS: Six ADP-929 blaster cannons (single fire or pair-linked)
SHIELDS/ARMOR: Forward/Rear Projecting ADS-922 shields (rated at 120 SBD)
               Quadanium-reinforced titanium alloy hull (rated at 80 RU)
SPECIAL EQUIPMENT: ADC-299 invisibility field generator (cloak)