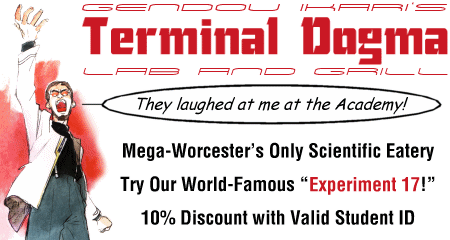 ---
Hello and welcome to Gendou Ikari's Terminal Dogma Lab and Grill, Mega-Worcester's only scientific eatery! I'm Yui, an Augmented SAL 9000-class artificial intelligence and the Lab and Grill's majordomo. Your host is Professor Gendou Ikari, the world-renowned hyperphysicist, dynamicist, mathematician, heurist, futurist, inventor, biochemist, alchemist, sorcerer, occultist, antiquarian, theologian, celestialist and astrologer. The Professor is out right now, but don't worry - the Lab and Grill's state-of-the-art computer systems and hyper-realistic android waitstaff will make certain that your stay is filled with fun, science, and great food!
While you're here, you might like to browse around our various experiments. (Just make sure not to touch anything without a labdroid's permission.) Why not drop by our Discussion Forum? Have a cruller and chat about the Lab and Grill, or the other fun stuff that's going on here at EPU!
Current experiments:
All of us here at Gendou Ikari's Terminal Dogma Lab and Grill hope you have enjoyed your visit! Drive safely, and please come again!
---
version 3.3 © 2001
Eyrie Productions, Unlimited
Benjamin D. Hutchins
E P U (Colour)