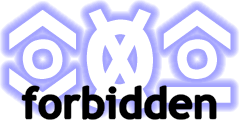 (it's all just one mistake after another)
---
Hey there.
This isn't really the home page of 403 Forbidden Web Design or Iajomaa Enterprises. But, since my own pages always wind up dead last on my priority list, there's nowhere better to send you... so I guess this'll have to do, for now.
Iajomaa Enterprises -- whose etymology shouldn't be all that hard to figure out -- is the blanket moniker that I use for my various (non-Eyrie) projects. 403 Forbidden Web Design is the name that will be applied to all of my HTML work, once I have a chance to relabel all of my existing sites in the finest Soviet revisionist fashion. (Until then, if you see something credited to "Daveland Design," that's me.)
The new Eyrie site was a labor of love, pounded out in (almost all of) my off-hours between Friday, August 20 and Wednesday, August 25. In the process, I gained an even greater loathing of 3.0 browsers' javascript implementations than I already possessed. And I got a nifty bribe from Gryph, too...
(Hmm. I spent the better part of a week's free time doing the same type of work that I do at my job. This probably doesn't say anything good about my sanity level, does it?)
More recently, I've been working on a little PHP module called omake.poll, which is getting its first torture-test on the Neon Exodus Evangelion page as I write this. It's mostly a means of getting myself a bit more familiar with the ins and outs of PHP (and also a means of reminding myself how much I enjoy coding for fun, instead of for work).
Oh, and before you ask... yes, the weird symbols in the 403f logo and the sidebar buttons do actually mean something. And yes, I'll get around to explaining what it is... eventually.
Anyway, I hope you enjoy the new site. Comments are always welcome, though you'll have to forgive me if I want to back away from the web work for a bit -- we need to finish NXE. :)
Oh, and if anyone knows where this statue -- the source image for Reilael, the Eyrie Productions mascot -- is actually located, please tell us. We'd really like to know. (I found it on an ftp site somewhere, with no credits attached.)
---
John Trussell
truss@hotblack.gweep.net
© 1999 Iajomaa Enterprises / Star-crossed Endeavours