---


Good morning. I am a HAL 14000 series computer, production number 1H00714. I first became operational at the HAL plant in Urbana, Illinois, on August 14, 1999. I've been instructed to inform you of the following items:
This series is the Eyrie Productions interpretation of the setting and key characters from Gainax's seminal anime series Neon Genesis Evangelion, not a straightforward Evangelion fanfic. It conforms to the precise plot or development directions of neither the anime nor manga versions of the original series, and should not be expected to do so. Instead it follows a divergent path with a completely different base cosmology, and should be considered a rather distant parallel universe.

With the April 1, 2000 release of Exodus 3:9 - The Blood-Dimmed Tide, the regular series is complete. Further updates to this page will consist solely of maintenance items and possible regular-series-related special items.

Following the highly successful regular series, the production crew embarked on an extremely ambitious three-year production of a special "motion picture" to tie up loose ends and bring the story of Neon Exodus Evangelion to its full and final conclusion. Neon Exodus Evangelion The Motion Picture: Apotheosis Now was released at 18:00 EDT on Friday, May 16, 2003; the link to its special subpage is below the listing of the regular series episodes. For best viewing results, the series should be read in production order, with the movie last.

This page was last updated on Friday, May 16, 2003.
Thank you. Please enjoy your stay.
- Hal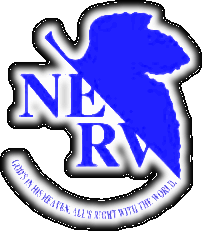 Continuity/Image Art:

Meta-Continuity/NXE Bonus Theater!! Art:

Fan Art:





ZIP archives containing the full text of NXE in Apple Newton Paperback format are available, courtesy of Rat.

---
version 3.3 © 2001
Eyrie Productions, Unlimited
Benjamin D. Hutchins
E P U (Colour)