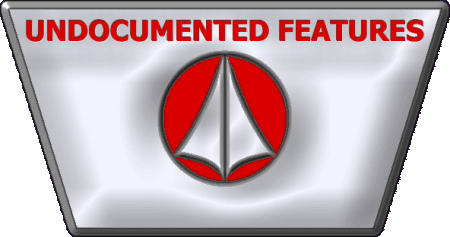 2004 Calendar
---
Welcome to the Undocumented Features 2004 Calendar! Here you'll find 12 all-new pieces of Undocumented Features artwork by the Eyrie Productions staff artists, all combined with handsome and functional calendar grids for the months of 2004. No puny little arrays of numbers here, like you find on some other anime calendars; our calendar has squares suitable for making notes in, and identifies a range of holidays and special occasions for your convenience.
Not all months are currently available. As more are completed, the page will be updated and notification will be posted on the What's New page. We aim to have any given month (except January, which is what we get for laying this project on at the last minute :) up before that month actually begins, so that you can get maximum utility as well as enjoyment out of the calendar.
Each image is 1,000 pixels wide (height varies slightly), and they're fairly hefty downloads, in the 300-400K range, but we think they're worth it and we hope you agree. And hey - like everything else here at Eyrie Productions, it's free.
Enjoy!
--G.
Millinocket, ME
January 11, 2004
---
January
Dave Menard
February
Larry Mann
March
Dave Menard
April
Larry Mann
May
Variant May Page
Dave Menard
June
Larry Mann
July
Philip J. Moyer
August
Philip J. Moyer
September
Philip J. Moyer
October
Philip J. Moyer
November
Larry Mann
December
Dave Menard
---
version 3.3 © 2001
Eyrie Productions, Unlimited
Benjamin D. Hutchins
E P U (Colour)