Paraaaaaade Of Shooooooes!
The Derek G. Bacon Memorial Web Site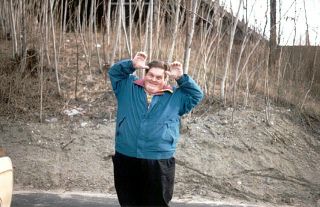 Derek G. Bacon
26 June 1971 - 15 December 1996
---
This World Wide Web page is dedicated to the memory of Derek "Gadaiyio Takeimienei", "Sublieutenant Toozday" Bacon, once lightnin@gweep.net (and lightnin@wpi.edu before that). I'll leave the biographical details to Derek himself; he had a page at his last employer, UltraNet Communications, which is more detailed than I could be anyway. Instead of my eulogizing at length about my lost friend, I decided that much of this page would let Derek speak for himself, through his old WWW pages and his creative works (with the exception of the top two things on the list, which are memoria of a sort by a co-worker of Derek's). The place for my (and others') reminiscences of Derek will be the Anecdote Archive.
My own eulogy of a sort for Derek came a few days after his death, anyway, and took the form of a story. If you're interested, it's Stolen Time, an Undocumented Features Golden Age story.
So, browse around. Here's a list of what I have so far (and I'll be compiling and revising this site for some time, so I imagine this list will get longer and more diverse as I collect more stuff.
Coming Soon-Type Stuff
Here's a list of some stuff I don't have here yet, but hope to add:
Derek's world.std.com pages
World wouldn't let me have these, because I'm not related to Derek. I was in contact with his parents at one point about getting these, but we fell out of touch, so I don't know what, if anything, became of this material now.
Derek's other dramatic(?) works
Derek wrote or cowrote several plays for WPI's New Voices festivals. I'm attempting to locate electronic versions of them.
All that and much, much more, as it crops up.
That's all there is to see, so far. Be sure to check back regularly, since this site is going to be under construction for quite a while.
NOTE (12/15/98): Yow, I haven't updated this page in ages, and today is the second anniversary of Derek's death. I sure don't miss him any less.
---

                       ----------
                      /          \
                     /    REST    \
                    /      IN      \
                   /     PEACE      \
                  /                  \
                  |     lightnin     |
                  |       0 Au       |
                  |                  |
                  |     Ascended     |
                  |                  |
                  |   15 December,   |
                  |       1996       |
                 *|     *  *  *      | *
        _________)/\\_//(\/(/\)/\//\/|_)_______


Goodbye lightnin the Wizard...

You ascended with incalculable points and 0 pieces of gold, after
innumerable moves.
You were level 25 when you ascended.

---
Ben Hutchins
gryphon@nerv.gweep.net