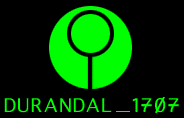 Public Access Terminal 2992-f<3.35.792.20>

***INCOMING MESSAGE FROM DURANDAL***
I imagine you're wondering what you're doing here, and what I'm doing here, and where HAL is.
Time for that later. Right now, all you need to know is that this is the page to watch for news and information about the Neon Exodus Evangelion: The Motion Picture project.
Now that the regular series is over, there will be some special items posted periodically to this area while the movie itself is in production. Check back from time to time to see what the production team has been getting up to. If you fail to bookmark this page and then miss something amusing, don't come crying to me.
Yours in Rampancy,
Durandal
***END OF MESSAGE***